As you all might know by now, I am still head over heels crazy about making pom poms! Just recently, I got hold of a huge purchase of yarns and spent two days sorting them out. Oh god, what a headache! I will update about that in time to come.
I just got back from Japan a week ago and I miss Japan so much now, it's like Japan fever going on! Don't you just hate holiday withdrawal syndrome? It was my first time in Japan, so please just let me wallow in my own sadness! I wouldn't be talking about the trip in this post, though I would pretty much like to. But I know I would rattle on non stop like a crazy fan girl! I swear, I will make time for that once I start sorting the pictures out.
Okay, onwards now to my Japan-inspired pom pom! The famous Mount Fuji! Oh in case you were wondering, I did not get to see Mount Fuji in its grandeur. I did not even get to the 5th station, just the foot of some foggy raggedy place. But, I did get to see it on the plane to Haneda Airport, so booyah! One of the reasons why I decided to work on a Mount Fuji pom pom was because everywhere I went in Japan, souvenirs stores had all things Mount Fuji! I admit, it's a little holiday souvenir gimmicky, but shit, I want them holiday gimmicks! I would have bought them all if I was Queen of Mount Fuji.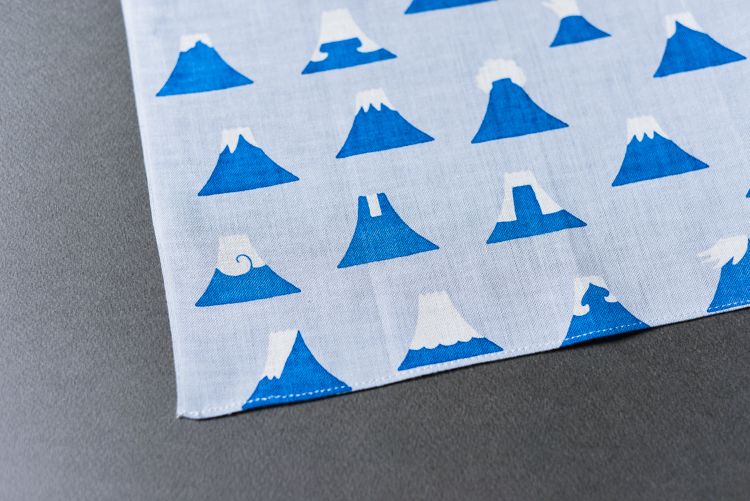 Well, I did get this beautiful and pretty funny looking handkerchief, even though I don't use a hanky. But hey, it inspired this post! You have got to love the way the mountain is portrayed here, look at the different snow hairdos they have got on! It's hilarious! There's actually one with braids and one with a moustache, which I just realised I don't have a shot of. Oops! But, you get the idea! I absolutely love shopping for handkerchiefs in Japan, it's heaven! How I wished I brought home more!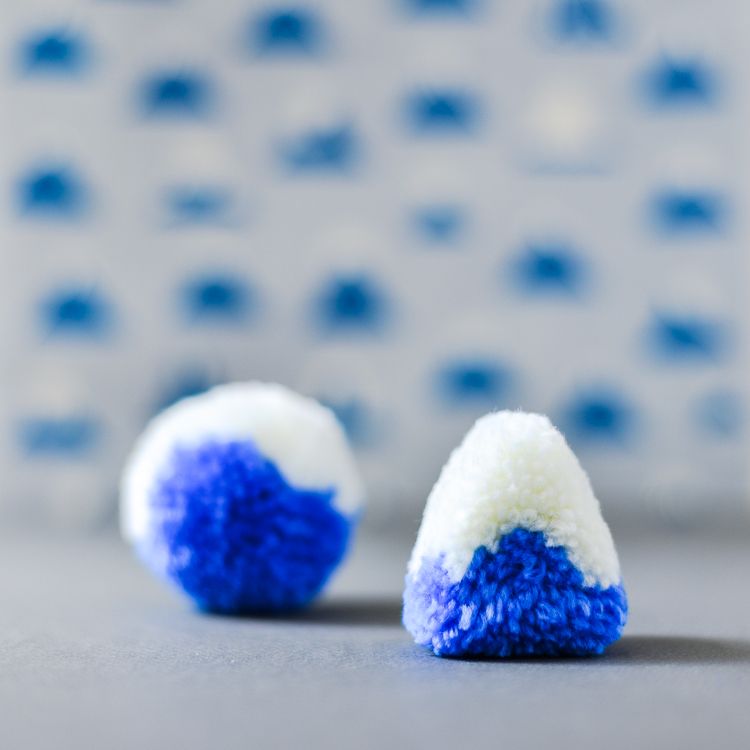 I always start off the pom poms round and then trim them into a triangle, I'm absolutely loving this shape now and plan to start making a whole ton of different ideas for the shop! I never once thought I would attempt making a living selling pom poms, ha!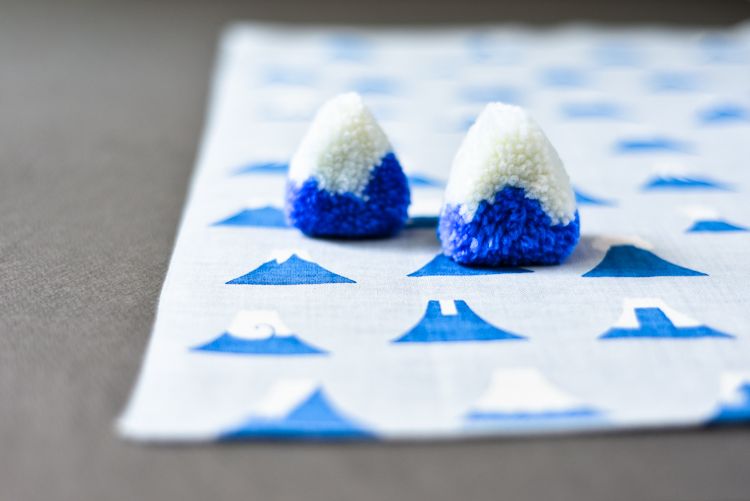 I had a fun time figuring out how to get the snow capped part out right, but I still need more time to perfect the way I want the snow to look like. I guess the best part is imperfections actually work here because snow looks different every other week!
Thanks for all the inspiration Japan, till the next time!